Richard Venn Bloodstock Ltd – Targeting Success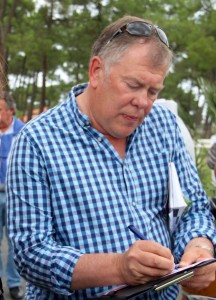 International bloodstock agent Richard Venn has a presence in Normandy, France as well as Newmarket, the UK Headquarters of horse racing. He is also the BBAG Sales representative for the UK and Ireland.
Richard Venn Bloodstock Limited takes pride in providing a high quality service for all its clients, no matter what their requirements.
Richard Venn established his business in 2007, having previously worked for over 20 years in the horse racing industry. His thorough knowledge and commitment to finding the right horses have brought significant results at the highest level. Richard is recognised as one of the most active agents on the European sales circuit, sourcing winners around the world and is expertly qualified to help you find exactly what you are looking for.
Richard has built up significant and long lasting links with France and Germany in addition to those established in the UK and Ireland.